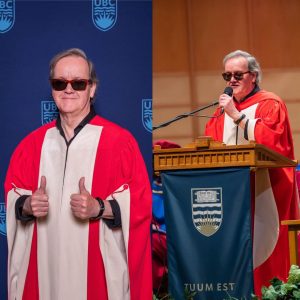 Congratulations, Roy!
On Wednesday, May 31st, 2023, Canadian musician/singer/songwriter/broadcaster, Roy Forbes, was given an Honorary Doctorate of Letters from the University of British Columbia. This honorary degree is bestowed upon individuals who, in the opinion of the UBC community, fit the criteria of excellence and eminence in their chosen field.
In his acceptance speech, Roy quoted (and sang) from the works of John Lee Hooker, Carl Perkins (via Elvis Presley), Rodgers & Hammerstein, and Bill Henderson.
Marvelling at this 'unexpected honour', Roy thanked his family and those who have worked with him over the past fifty-plus years. He also said a few words about continuing to believe in the mystery and magic of the creative act.
At the conclusion of Roy's speech, UBC President, Deborah Buszard had this to say: "What an amazing character. What an amazing voice".
If you want to check out Roy's part of the UBC Grad ceremony, click on the video link below.
Roy is introduced around the thirty-five-minute mark . His acceptance speech begins around the forty-minute mark.